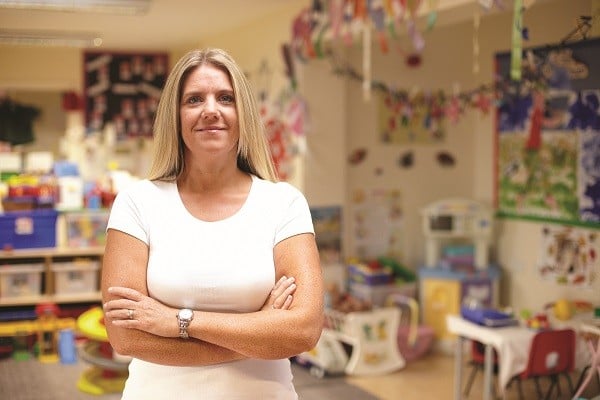 As a teacher, it is very important to promote positive mental health and wellbeing so that you're not only looking after your students properly but you're also looking after yourself.  
Given the continued stresses many of us have been facing over the last year, this has become even more crucial. 
It can be easy to let mental health fall by the wayside as lesson preparation, marking, reports and parent-teacher meetings build up, so it's vital to set time aside to focus on yourself and your wellbeing.  
We've outlined just some of the simple ways teachers can look after their mental health in and out of the classroom. 
Create Clear Boundaries Between Home and the Classroom
A lot of commitment goes into being a teacher and because of that, the line between classroom life and home life can sometimes be blurred.  
Try to give yourself an afternoon home time and do your best to commit to that each day. Try not to bring home too much work but if you do, ensure to set up an exclusive work only space at home, so that you're not marking or preparing resources in the lounge room or on your bed.  This is even more essential when faced with the pressures of online learning. 
By setting up clear boundaries and expectations, you'll help promote positive mental health in yourself at home and in the classroom. 
Adopt a Growth Mindset in the Classroom
Growth mindsets are as important for teachers as they are for your students. 
Take a page out of your students' book and accept mistakes as opportunities to learn. It is important to see yourself as a learner, so spend time reflecting on new ideas and processes and remember that mistakes and challenges are part of the journey.  
Reconnect To Your Purpose
Teaching is a calling – not everyone has the passion and skillset to become a teacher. If you find yourself feeling stressed or lacking motivation, reconnect with why you chose to become a teacher in the first place by taking the time to self-reflect or meditate. 
You'll feel more focused, you'll remember why you became a teacher and you will give yourself some quiet, mindful time to re-evaluate and assess your emotions.   
Embrace a Mentor
If you're feeling overwhelmed, it's important to remember that you're not the first and won't be the last teacher to struggle with challenges that can affect mental health and wellbeing. There is a good chance that some of the teachers at your school have felt the same way you have from time to time.  
Talk to some of your fellow teachers and work colleagues and you might find that they have some new solutions for boosting your mental health. You might even find it helpful to chat with others so that you're sharing your anxieties and frustrations and working on solutions together.   
Keep Focused On Your Goals
We all have goals, whether they're related to career, mental health or physical wellbeing. Remind yourself of your aspirations and goals in tough times so that you can regain your focus.  
Don't worry if you're not on track for that new role or promotion yet. Keep working to your best ability, break long-term goals up into smaller, more achievable objectives and you'll ensure you continue to take the steps you need to get where you want to be. 
Keep Active
When we're stressed or overworked, exercise and looking after physical wellbeing can become less of a priority, but it can be the gateway to boosting our mental health.  
We all know that exercise releases endorphins, which promotes positive mental health. Even when you're feeling sluggish or unmotivated, try and schedule in some light walking, a spot of yoga or a light cardio workout at home.  
If you live close enough (and aren't carrying too many things), consider walking to work so that you always incorporate exercise into your day. Or consider signing up for a gym that is between your house and school so that you have a reminder to go.  
Build Relationships and Keep Social
Relationships with friends and family have become a priority for many of us over the last year, as we've had to make extra efforts to stay in touch. Other people help us keep grounded, give us perspective and can even improve our mental health.  
As well maintaining existing relationships, building new ones can be incredibly rewarding. Meeting people online through book clubs, or starting a new hobby or leisure activity will open you up to like–minded people who can help you support your mental health and resilience.  
Being social (even if it is over the phone or a screen) gives you that much-needed time away from work and allows you to talk to others about any fears, frustrations or anxieties you may be feeling.  
Reward Yourself
This one sounds simple but is effective (and the most fun!). A little bit of healthy retail therapy or rest and relaxation can go a long way! 
Consider booking a trip away, even a short stay, or some kind of fun event so that when things get tough you can always look forward to something in the future.  
For those not able to consider time away, think of other rewarding activities that can provide a bit of an escape – a quiet movie afternoon, online wine and cheese tasting or simple an hour reading in the sun.
Seek Support
While these simple tips can be very effective in helping you take time for yourself to focus on mental health and wellbeing, it's important to remember that you're never in this alone. If you aren't coping, it's important to seek some professional support – there's plenty of help out there through your Employee Assistance Program or a Psychologist (referred by your GP).
Subscribe to Learning Links
In our free monthly eNewsletter, you'll receive interesting articles on learning, development and wellbeing, tips for supporting children at home or at school, program and online learning updates and the latest news from the Learning Links team.