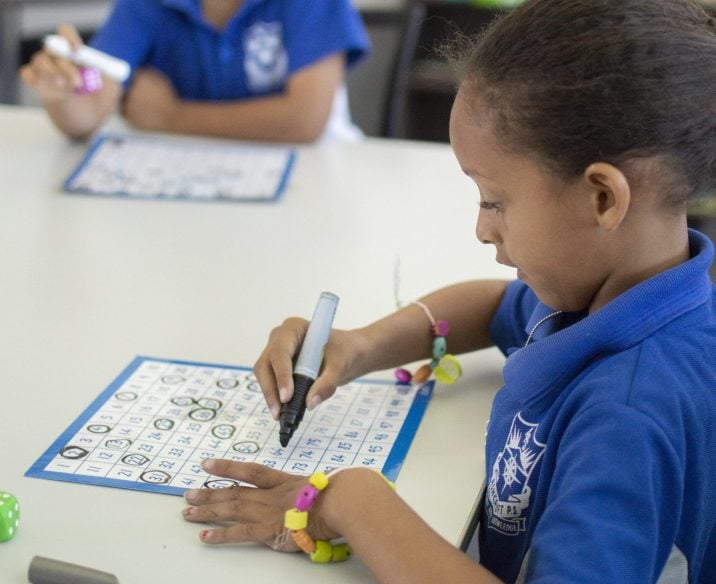 Learning Links is partnering with the NSW Aboriginal Education and Consultative group to provide support with literacy and numeracy for Aboriginal students in the Mt Druitt area in Sydney.
Up to 32 students in years one and two have been identified as being at significant risk of falling being their peers in reading, writing and maths. Learning Links' specialist teachers are working with the students to increase their learning capabilities to achieve equitable educational outcomes, while embedding Aboriginal worldviews and culture.
"Learning Links teachers have spent time with Aboriginal Elders to develop a greater understanding of the community. Incorporating Aboriginal culture is an integral part of the program. We want to respect the practices and traditions of the families we support and ensure students are engaged in their learning," said Dr Samantha Hornery, Learning Links Education Manager.
The program is the continuation of a successful pilot completed in 2018, which saw developmental gains from students of up to 17 months in reading and 40 months in addition and subtraction skills, over a seven-month period. On average, students made gains of 6.8 months in reading and 12 months in maths. The Rali Foundation has provided $65,000 in generous funding for the program, as part of their ongoing commitment to support Indigenous communities.
Learning Links has over 45 years of experience in supporting children with learning difficulties and disabilities, including those from marginalised groups at greater risk of disadvantage, such as indigenous communities, families in low socioeconomic areas and culturally and linguistically diverse (CALD) communities. Children struggling at school are often anxious, have trouble communicating and interacting with others, and many have behavioural issues.
"Learning Links is passionate about working with Aboriginal and Torres Strait Islander families to mitigate the risk of poor educational outcomes. With up to 15% of all children in Australia having learning difficulties, there is a real need for additional support. The gap between those children and their peers continues to widen over time and we know there's a strong correlation between those difficulties and a whole host of mental health issues, disengagement issues and ultimately social issues," said Birgitte Maibom, Learning Links CEO.
"Our focus is to work closely with families and schools to empower children to thrive and succeed no matter their ability or cultural background. Our vision is to support a community where learning difficulties are no longer a barrier to a fulfilling life."
Learning Links is a not-for-profit charitable organisation established in 1972 by parents concerned about the lack of appropriate education and support services for children with learning difficulties. Learning Links works with these children, their families and schools offering tailored programs and services to improve the children's learning, wellbeing and participation helping them reach their full potential.
---
Tags