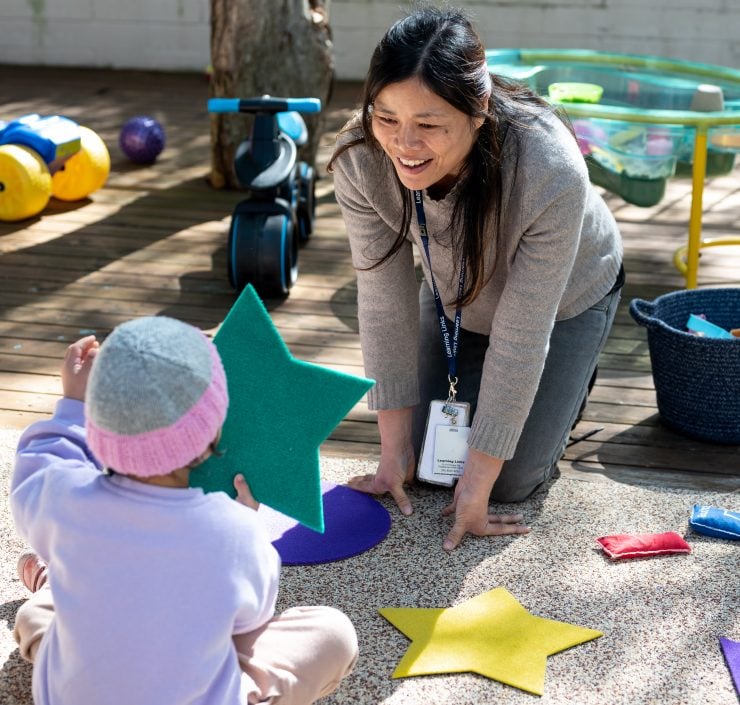 A Supported Playgroup to Help Children Transition Into Early Education
The Prep 4 Preschool supported playgroup is a weekly program providing early intervention support for children aged 2 years and over, who are facing difficulties transitioning into an early education service.
It offers a relaxed, safe and engaging environment where play activities enhance your child's development. Our professional and experienced team are here to guide your family on this important journey – providing information and early intervention support to empower your child communicate, play, learn and develop.
Enquire About Joining Prep 4 Preschool
How Can the Supported Playgroup Program Help Your Child and Family?
A supportive environment where children can thrive
Our goal at Prep 4 Preschool is to create a space where your child's unique personality, interests and strengths can shine through.
The weekly small-group sessions run during term time and give a gentle introduction to an early learning environment, guiding children to play and learn alongside their peers.
Sessions are fun and interactive, with group time, morning tea and a range of games and play-based early intervention activities to support speech, language and fine and gross motor skills.
Dedicated staff
Our warm, professional and experienced team of early childhood educators and therapists work in close partnership with families to identify and support each child's goals – tailoring activities to enhance their development and prepare them for a more structured early education environment.
Empowering parents and carers
Prep 4 Preschool isn't just for kids! The program aims to give parents and carers the knowledge, tools and confidence to work with their child at home and access the additional supports they may need.
Plus, you get the opportunity to connect and build relationships with other families in a space free from judgement.
Who Can Attend?
The supported playgroup is for families with a child aged 2 years and older not currently attending an early education service, and who may be facing difficulties with this transition.
We have extensive experience working with children with additional needs, including Autism Spectrum Disorder (ASD), speech and language disorders and developmental delay.
Your family must be able to attend the program one morning each week.
Siblings are welcome to come along.
Joining the Prep 4 Preschool Supported Playgroup
To find out more about Prep 4 Preschool and our early intervention support, or to come for a trial session, please contact Rebecca on 0451 592 254 or email prep4preschool@learninglinks.org.au
Or, enquire using the form below.
Prep 4 Preschool is located at:
Learning Links Oatley
Corner Oatley Avenue and Hurstville Rd
(in the Georges River College Oatley Senior Campus)
Oatley NSW 2223
Enquire About Joining Prep 4 Preschool
Subscribe to Learning Links
In our free monthly eNewsletter, you'll receive interesting articles on learning, development and wellbeing, tips for supporting children at home or at school, program and online learning updates and the latest news from the Learning Links team.